Advantages of Disposable Towels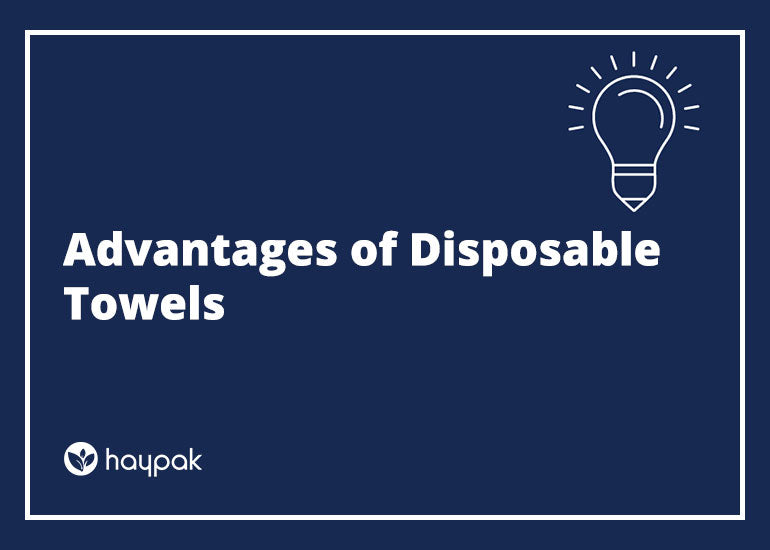 Disposable towels are products that you can use daily. They are useful, versatile, all-natural, and are made of 100% recyclable properties. Haypak disposable towels, which adopt the principles of sustainability and environmental protection, are completely eco-friendly.
Although consumables such as bed sheets, towels, bedding, bathrobes, and pillowcases seem small and insignificant, this is a big mistake. Disposable consumables that reduce costs for businesses, protect the environment, ensure customer satisfaction and provide customer loyalty help customers feel clean, hygienic, and comfortable.
Haypak disposable towels are categorized to include foot towels, hand towels, face towels, gym towels, hair towels, bath towels, bath towel sets, wudu towels, car drying towels, cat towels, and dog towels.
Disposable towels eliminate towel laundering and labor and detergent costs, especially in enterprises. Water and detergent are necessary for you to constantly wash, which is not ideal for the environment. Washers and dryers also consume electricity. It takes labor to organize, fold, and place towels, which can be costly. They save water and electricity because you can throw these towels into the recycling bin after use.
Disposable towels with super absorbent properties hold water and do not leak. Disposable towels with 100% recyclable properties are made from natural materials, so they do not irritate the skin and keep the skin soft.
Usage Areas of Disposable Towels
Disposable towels are of luxurious quality and can be used in many industries. Disposable towels, which come in many different sizes, are very easily used in many different sectors, such as aesthetic centers, hairdressing salons, beauty centers, solarium centers, baths, manicure salons, hot springs, spa salons, clinics, hospitals, nurseries, kindergartens, universities, health centers, alternative medicine centers, schools, colleges, hotels, guest houses, hostels, gym and fitness clubs, yoga studios, dance studios, offices, workplaces, and houses.
Disposable towels can be used for up to a week. Disposable towels, which offer personalized uses, are flexible, hygienic, soft, cushioning, heat insulation, impermeability, bacteria, viruses, and infections.
Disposable towels are consumables that businesses use to keep costs low and protect the environment. Disposable towels used in almost all sectors offer practical and ease of use. Disposable towels provide clean solutions, especially for the medical sector, education sector, accommodation sector, and beauty sector, which should be hygienic.
Why Should You Use Disposable Towels?
There are many reasons why hotels, spas, and other businesses decide to use disposable towels instead of reusable towels. Disposable towels are generally used in hotels, hostels, bungalows, and guest houses. Disposable towels, which are among the important consumables in the accommodation sector, are advantageous consumables that reduce such businesses' costs.
Disposable towels used in beaches, restaurants, water parks, and entertainment centers are personal, allowing children and adults to spend time in a hygienic environment.
Disposable towels are extremely useful in places where people are active, such as gyms, yoga studios, and dance studios.
Disposable towels are among the ideal options for customer hygiene in manicure salons, aesthetic centers, beauty salons, massage salons, hot springs, and spa salons.
It is necessary to take care of personal belongings to protect against bacteria, fungal infections, and viruses in hospitals and medical centers. In medical centers, such as hospitals, elderly care centers, nursing homes, health centers, clinics, and childcare centers, disposable towels are ideal choices that ensure patients are hygienic and safe.
You can save water, electricity, labor, and detergent by using disposable towels, which reduce towel washing and drying costs for businesses. Moreover, such towels are generally easy to use and practical because they are stain-proof and leak-proof.
Disposable Towels for Customer Satisfaction
Unique, hygienic, and outstanding customer service always means loyal customers for businesses. Therefore, disposable towels are a great choice.
These items are always brand new and individually packaged. When you go on vacation, so you will be the only one to use disposable towels. Apart from that, there is more room in your luggage for gifts and souvenirs.
Therefore, it is used in a very hygienic and clean way. Disposable towels that you can use in a comfortable, soft, and practical way will leave you feeling great. This comfort increases customer satisfaction. This enables businesses to gain volunteer brand ambassadors and loyal customers in the long run.
For these reasons, hotels, hostels, and tourist facilities that use disposable towels have the advantage of gifting their guests a sense of satisfaction. Thus, people who prefer to use disposable towels on trips start to come to your establishment constantly. Customer satisfaction always increases sales and ensures customer loyalty. This helps your business grow and profit in a very short time.
Disposable towels not only provide personal hygiene and cleanliness but provides customer satisfaction and cost savings. It is also a small but important step in protecting our planet because disposable towels are eco-friendly and 100% recyclable. In our age, where global warming occupies the agenda, recycling is very important.
Haypak always works to protect the ecological balance, the planet's protection, and a healthy future. Therefore, it brings eco-friendly and fully recyclable disposable products to consumers. You can use disposable towels to make recycling a habit and to adopt ecological values ​​in businesses.
Collection 2019
Sale 70% Off
Title for image