Disposable Underwear Advantages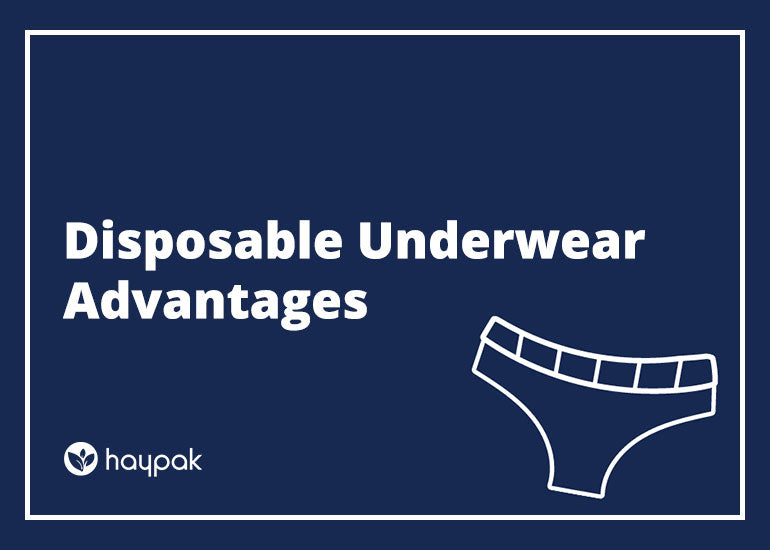 Disposable underwear is a product that is generally designed to be worn and discarded one time. Usually, using disposable underwear varies according to the purpose of use, needs, and wishes. Such causes affect the way disposable underwear is designed. Haypak disposable underwear looks and feels like regular underwear. Disposable underwear is perfect for people who want to feel clean and fresh all the time. They are life-saving products in emergency and difficult situations.
Haypak disposable underwear includes disposable panties, disposable briefs, disposable thongs, disposable bras, and disposable boxers.
Before purchasing disposable underwear, you need to pay attention to what the materials are made of. Disposable underwear materials are essential. Disposable underwear made of soft, elastic, and comfy materials does not irritate the skin. Moreover, disposable underwear made of high-quality materials traps moisture and does not stain or leak.
Disposable Underwear Benefits
Disposable underwear is used by travel-lovers as they are light, compact, and easy to carry. This type of underwear does not need to be washed and dried. Disposable underwear is practical for those who always travel. Moreover, they are ideal choices as they take up very little space in suitcases.
Apart from that, disposable underwear helps protect the skin and clothes of incontinent patients and the elderly. This type of underwear eliminates moisture and odor. Thus, it provides comfort, hygiene, and practicality. Specially designed disposable undergarments provide hygiene in elderly care centers and nursing homes, hospitals, and health centers. Women prefer comfortable, light, soft, and practical women's disposable underwear. They do not prefer staining their underwear during their menstrual periods.
Disposable Underwear for the Elderly
The elderly often experience urinary incontinence. This can be very uncomfortable and embarrassing. In addition, elderly skin can become irritated rather quickly, and maintaining proper hygiene can be difficult. That's why disposable underwear is a perfect choice for the elderly. This type of disposable underwear is made of soft-textured, smooth, comfortable, flexible, moisture-retaining, and liquid-proof materials. They are designed to be thrown in the recycle bin after use.
Disposable underwear for the elderly can be used very comfortably in hospitals, health centers, clinics, elderly care centers, and nursing homes.
Disposable Underwear for Pregnant Women
Disposable cotton underwear for pregnant women is a healthy and hygienic choice. Extra soft texture, flexible, comfortable, and practical disposable underwear makes life easier for pregnant women. Incontinence is quite common for pregnant women, especially while exercising. With disposable underwear, pregnant women can move comfortably, as disposable underwear is very relaxed and comfortable. Moreover, disposable underwear that does not stain, trap moisture, and not leak are ideal for pregnant women's choices.
Disposable Underwear for Patients
As patients staying in the hospital experience pain, comfort is essential and necessary. The most important thing to consider for the patients' convenience, well-being, and peace is their clothes. Disposable underwear is very comfortable, convenient, and practical for patients staying in the hospital and patients who have recently undergone surgery. Patients' skin may be irritated if they run out of clean underwear and are left with stained or wet underwear. You can use disposable underwear to avoid these problems. Apart from this, disposable underwear is the best choice for protecting patients from infections, bacteria, germs, viruses, and personal hygiene.
Underwear for Spa Salons and Massage Salons
Disposable underwear is especially ideal in spa and massage salons because substances such as facial mask materials and aromatherapy oils used in skincare can stain underwear. Such aromatherapy oil stains will never come out of underwear. You can use disposable underwear in spa salons, hot springs, and massage salons to avoid soiling your underwear.
You can also use disposable underwear as a bikini in the swimming pool. If you do not have a bikini or swimsuit with you, such products allow you to swim in calm waters with pleasure. Apart from that, you can also use it in spas, hotels, hostels, guesthouses, and bungalows.
Disposable Underwear During the Menstrual Period
A few days of each month are more uncomfortable for women. It is practical for women to wear comfortable, soft-textured, comfy, and flexible disposable underwear during their menstruation. In addition, disposable underwear is an ideal choice with its stain-proof, moisture-proof, and leak-proof features. Thus, women can use such underwear very comfortably during their menstrual period.
Disposable Underwear for Travel
Disposable underwear generally takes up little space in the luggage when traveling. Disposable underwear, which have light and compact features, is very easy to carry and is practical.
Laundry can be challenging, especially for travelers. Apart from that, it is also tough to dry clothes on beaches, swimming pools, and beaches, in general, in humid areas. Moreover, in humid regions, laundry takes quite a while to dry, and the chance of harboring a musty odor can occur in the fabric. Generally, people do not want to wash and dry their clothes when they go on vacation. For such reasons, disposable panties, disposable briefs, disposable thongs, disposable bras, and disposable boxers are practical alternatives for travelers. Apart from that, disposable underwear is life-saving in camping areas, boats, and yachts with no washing machine and laundry dryer machine.
Collection 2019
Sale 70% Off
Title for image