Disposable Towels for Hotels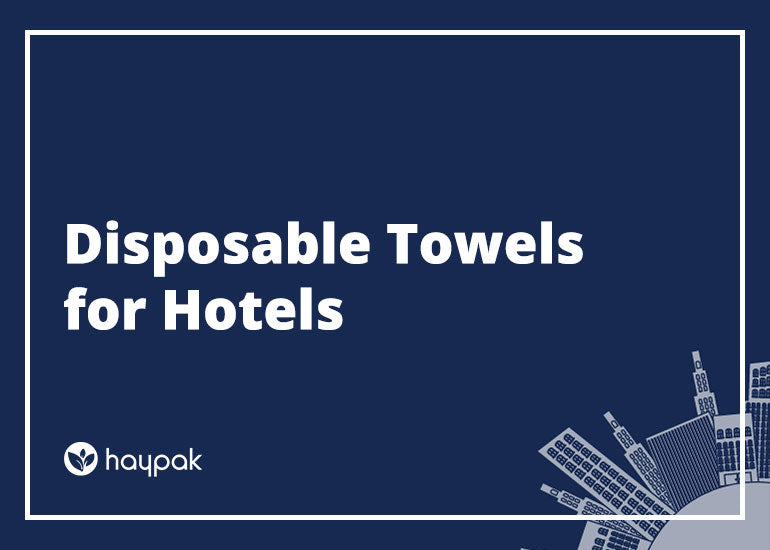 Disposable towels are highly functional consumables for large businesses, such as hotels. For hotels with paid accommodation, hygienic and environmentally friendly disposable towels are ideal for customers to trust your business. Haypak disposable towels are completely environmentally friendly and 100% recyclable. They are hygienic and functional, as they are personal products. ,In this article, you will find answers as to what disposable towels and towelettes are.
What is a Disposable Towel?
Large businesses, such as hotels, need to use hygienic consumables. Stylish hotels that maintain a reliable and hygienic process is important for their prestige. That's why disposable towels and disposable products are ideal.
These types of products are personal. Especially during COVID-19, hotels that use personal products will instill trust in customers. Disposable towels thrown into the recycling bin after a few uses will ensure comfortable accommodation for customers. Disposable towels with strong water absorption and made of high-quality materials are portable and lightweight. Thus, they don't take up much space. These hypoallergenic products are soft-textured and gentle on the skin. They offer great comfort to customers in hotels.
Haypak, our own registered trademark, offers disposable towels, sheets, bedding sets, pillowcases, bath towels, and sunbed covers. Breathable disposable towels, made of high-quality materials, provide ease of use with their thick texture and flexibility. These towels, which make you feel at home, do not pose a risk to human health.
Disposable Towels for Face
The Haypak disposable towel collection includes bath towels, gym towels, hair towels, foot towels, hand towels, face towels, and wudu towels. Soft, breathable, healthy, gentle, and functional products are ideal for sensitive skin.
Disposable towels used in hotels are hygienic, comfortable, and personal. In other words, these products protect your customers from bacteria, germs, viruses, and all types of harmful creatures.
In addition, you save on electricity, water, and labor that you would otherwise use to wash and dry towels. This means less cost. High quality and luxurious disposable towels that help you reduce costs, are eco-friendly, and recyclable. Disposable face towels that protect both the planet and your economy are ideal to increase the prestige of hotels.
Large Disposable Towels
Our large disposable towels are highly functional as they have high water absorbent properties. Disposable towels made of luxurious and high-quality materials offer maximum softness to hotel guests. These types of disposable towels are produced with a special technology. Therefore, they are very durable and robust. These products, which provide luxury comfort with their extra soft texture, are made of a special material. Spa-quality disposable towels offer your guests luxurious comfort.
Saving time and money is essential for hoteliers. Moreover, in hotels, towels, sheets, pillowcases, and bed linen should be constantly washed, cleaned, and dried. This means extra electricity and water consumption. Extra labor is also required to run business operations. Disposable towels are ideal for reducing labor requirements and costs. In addition, these light and compact towels do not take up much space. These supplies, which reduce overall budget expenses, are great for hotels.
Disposable towels do not retain odors and absorb liquids completely, helping to reduce cross contamination, making them more reliable and comfortable.
Haypak offers its products to large enterprises with its credible years of experience. Haypak disposable towels breathe new life to the hospitality industry. Super luxury, personalized, and hygienic disposable towels impress with their strong and durable features thanks to their special production technologies.
Disposable Towels Ensure Customer Satisfaction in Hotels
Accommodation experience in hotels should always be special and unforgettable for customers. It is critical that the hotel is very clean, hygienic, comfortable, and maintain a high standard for customers to trust your business. Ensuring customer satisfaction is vital for hotels. For the service quality to be luxurious, the services provided by the hotels and the consumables used in the hotels must be of high quality. Disposable towels are ideal to meet the psychological expectations of the customers, to comply with the hygiene rules and to make the customers happy.
Customer experiences are of great importance in the accommodation services of hotels. In this respect, the primary purpose of staying in hotels should be to make the customers feel at home. That's why hotels that meet customers' expectations survive. Hotels should use the most hygienic, comfortable, and healthy consumables to protect the health, safety, and comfort of customers.
You can maximize customer satisfaction with Haypak disposable towels. Human health-friendly, hygienic, and comfortable disposable towels make your guests feel happy and peaceful.
Collection 2019
Sale 70% Off
Title for image